A little shiny thing here, a little shiny thing there...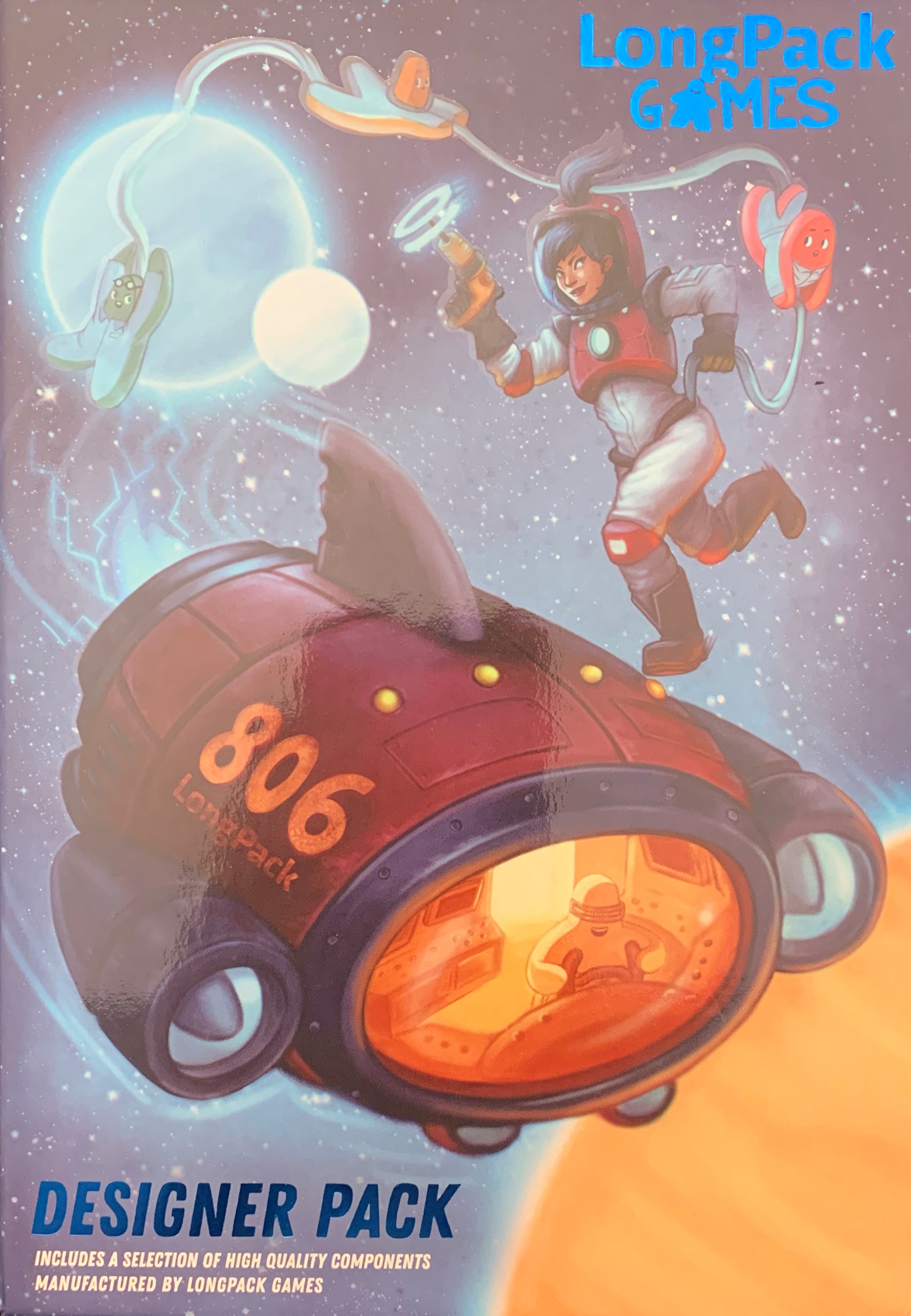 2021 Designer Pack (LongPack Games)
When you are a game designer, it is hard to decide on who to go to for manufacturing your game; this is even worse if you are a small publisher with limited budget. It would be really nice to be able to get samples from manufactures to decide if their products will suit your needs. LongPack Games is a game manufacturer who has put together just that; a pack of various components that help showcase their manufacturing quality and provide an idea of unique things they can put together. LongPack Games sent us their 2021 Designer Pack that came with lots of neat goodies and a useable deck of playing cards. When I opened up the mailing package and saw the Designer Pack, I thought "Well, that is not what I expected."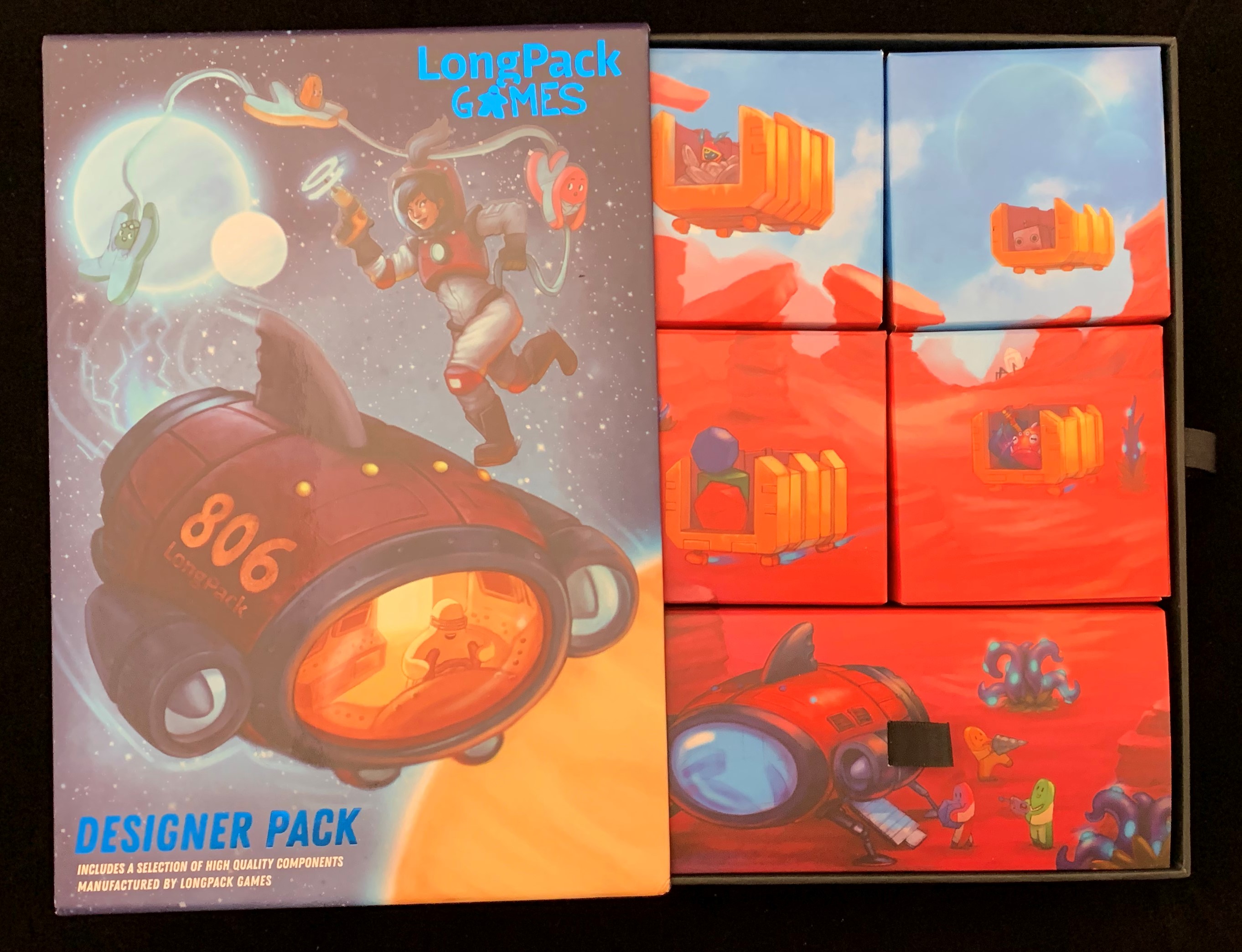 Box and Components
I was very surprised to find a well made box with a slide out drawer with a little ribbon pull. Inside the box were 5 additional containers each with their own little surprises within. These containers are nicely illustrated showing off an alien planet; each container has their own scene that build off of each other. There is one longer rectangular container and four smaller square ones. Once you pull out the rectangular container via its ribbon, the others are easily removeable. Let's check out each one!
Rectangular
Within this container was custom plastic miniature holder with 2 miniatures within; the plastic holder is well shaped and sized for the minis. One mini has a sword and shield while the other is equipped with a sword and mace. The minis are pretty sturdy and very well made; I tried to lightly bend on a few of the potential weak points and found they had a little give which should allow them to absorb a little shock while in a game box. The detail on the minis armor is very impressive; the detail is so fine I know I would never be able to properly paint them. These pictures don't really do the miniatures justice (click on each to enlarge).
Square 1
This container is more of a standard flip open style box (like a deck of cards). Within this is another plastic container with a meeple icon on the clear plastic lid. Within the box are various plastic bits showing off a few options for tokens and components.
There are some acrylic tokens with sword graphics on them. One looks like your traditional medieval sword where the other looks a little more sci-fi stylized. There are also two acrylic bases that the swords fit into.
There are three colorful plastic tokens that look like components you would likely find in games for children; they are brightly colored and have graphics on them via sticker. The creature illustrations for these tokens are found on the Designer Pack box and containers. The pieces themselves seem sturdy and should certainly hold up to a little abuse.
Square 2
This container is similar to Square 1, but this is showing off two of their metal designs. The box is molded around these items providing a fairly snug fit.
The first thing you see is a very, very nice looking metal coin with raised texture graphics. The graphic is the ship from the front of the box. It is demonstrating the use different colored paints on their metal coin (blue, red, and black. I ran my fingernail over the paint for 30 seconds, and there are no noticeable damage to the the paint. I can definitely see this type of quality coin being used in a lot of games especially if their can make the illustrations look this nice on them. I sort of wish the opposite side has some other graphic or some color variation so it could be used for flipping.
The other piece is a metal keychain with a sticker on both sides protected by a clear coat of plastic. The sticker is a rabbit that may be a rogue. Everything is very smooth on the keychain except the edges; on the edge, you can feel the exposed metal. This isn't a bad thing, but you can tell the plastic coating was on the metal when it was cut and not applied afterwards. It is a nice little trinket.
Square 3
This container is much like the prior two were (don't worry, the fourth is a little different). This plastic contain is shaped a little more generically with a big space maximizing how much can be stored in the box. This one contains the most unique component shown off. It is a little robot. Its hands and feet are your standard small, uncolored wooden cubes; they are connected via bungie cord to a rectangular wooden block that has a smiling meeple etched on the chest. Finally, the head has an etched mouth and eyes that are etched and painted. The edges on the head and torso are smooth while the hands/feet have your typical sharp edges. I don't know of many games that would use something like this, but I think this may be one of my favorite pieces in this pack because it is just interesting and shows off something a bit different. This little robot will definitely become part of the décor in our game room and may even pop up in the background of our streams.
Square 4
Finally, the last box has a slide out piece that contains a full deck of square cards. The cards look fairly standard except the illustrations on the face cards depicting characters from the box. The illustrations turned out great on the cards and have a nice color range. The cards themselves are pretty good. They have a fairly standard feel to their cardstock, but they have a nice glossy finish. They would be perfectly serviceable cards for playing rummy, spades, poker, or your favorite traditional card game.
Services/Past Work
This section isn't a review of what they sent us and is more of me just looking over their website for the type of services they offer; I recommend if you are interested in anything you see here, visit their website for up-to-date details.
Looking over the list of games they have supported in the past is pretty impressive; we have a number of these games. They worked with Blue Orange Games for Planet, Alderac Entertainment Group (AEG) for War Chest, Starling Games for Everdell, and Exploding Kittens Inc. for Throw Throw Burrito just to mention a few.
The company is able to help create boxes, boards, various wooden and plastic components, miniatures, dice, and cards. Their team can work with you to determine what components would work best for your vision and can provide quotes for those products. They will ensure your artwork and components turn out correctly prior to your major print run and will work with you until you are happy with the final production samples. They provide templates for many of the components they produce so you know what they are expecting. Everything on their website is well laid out and easy to navigate unlike many websites I have seen in the domain.
Again, this section was not a review but purely reading over what they claim on there website.
Final Thoughts
I am very impressed with the quality of the components they provided in this Designer Pack, and I really like that the artwork on the mini-containers provide you a hint of what is within each. Obviously, they put a lot of work into showing of the best representation of what their can produce; as with any manufacturer, you will absolutely want production samples before your pull the trigger on your final production run. As someone who has been helping a designer within this phase of their project, little things can happen like forgetting to factor in bleed lines and slight color variations based on the image file formats as well as the printer capabilities. If you are making a game, you should do as much homework as possible and shop around to make sure you partner with a manufacturer who can bring your vision to life.
Based on this Designer Pack and the list of other games they have supported, I feel comfortable recommending designers at least give LongPack Games a call/email to see what they can provide.
Links/Media
Disclosure
We received the product in order to write an honest review; all reviews reflect the honest opinions of the writer.