When you want "Unified" network management, Unifi is a great option.

UniFi Dream Machine Pro (2020)

Company
Ubiquiti
Model
UDM-Pro (First Edition)
Like many people in the tech field, I have had a lot of different devices on my home network and managing that network. When we bought our house over 10 years ago, I had a strong desire to use a close in my new office as a my network closet. Initially, this only included a modem with built in WIFI and a few misc. computers I tinkered with. Overtime, I bought 2,000 feet of CAT6 and a 24port D-Link unmanaged switch from a Craigslist seller and then I moved onto an HP ProCurve network switch and a couple smaller servers a few years later. This has worked fine for years, but I continued to want to unify the management of my network and to have something more stable for my wireless network.
I decided this year I would finally give my entire network a complete overhaul and switch to a unified system that would allow for central management and advanced features that honestly will take me a couple years to even fully use. I had been researching the UniFi products for a few years now specifically as an option to upgrade the network at my employers office. What I liked about the product line was there were no year fees much like there is with the Cisco Meraki series. While the Ubiquiti equipment is not without its faults, it felt like a great option for someone who is not a network engineer but wanted a little more control of their network.
Finally, I decided on the UniFi Dream Machine Pro (UDMP) as the central device of this new network along with their newest WiFi 6 Access Points. After 6 months, I am still learning how to use all of the features the UDMP offers, but my network has never felt as stable. WiFi is much easier to manage and seems to go down less often, I even picked up a smart plug that will restart my Suddenlink modem when the UDMP detects no network connectivity from it. Often, local network outages in a home are the result of an issue within the modem so restarting often resolves these issues; now, I no longer have to fight with unplugging and re-plugging it in when the network is down. There are many of small quality of life improvements I have felt since switching over, but I won't get into all of them here.
*The video quality isn't the greatest due to still using a webcam at the time of this recording.
Features
The UDMP provides multiple functions beyond network management such as Network Video Recording (NVR) for their Protect line of cameras, Access Control via their access hub and access readers, and VoIP via their Talk Application and UniFi VoIP Phones.
The technical specs for the UDMP are:
Processor: Quad ARM Cortex-A57 Core at 1.7 GHz
Memory: 4GB DDR4
Onboard Storage: 16GB eMMC
IDS/IPS Throughput: 3.5 Gbps
Bluetooth BLE
Max Power Consumption: 33W
The interfaces provided on the UDMP include:
Eight Gigabit RJ45 LAN Ports
One Gigabit RJ45 WAN Port
One 10G SFP+ LAN Port
One 10G SFP+ WAN Port
One SATA Hard Drive Hot Swap Tray
One standard AC Input
One Redundant Power System (RPS) DC Input
The UDMP comes with a number of different optional applications that can be installed to get more use out of its hardware. Most line up with the functions I mentioned earlier. Let's take a closer look at these applications.
Network
This is the main feature I cared about when I initially bought this hardware. The Network application allows for central management of all things network related. If you have UniFi access points, this will allow you to manage, sync WiFi IDs, and modify various settings in one place. Additionally, you can view the type of traffic on your network as well as the devices that are currently (and previously) connected to your network. You can even run speed tests within the UDMP both manually and via a schedule to ensure you are getting the speeds you are paying for. On the wireless side, you can even survey the other wireless networks around you to help determine the best channel with the least usage.
While I am certainly not using everything to the fullest and still need to work more on dividing my network for Internet of Things (IoT) devices, game systems, home lab, and our normal network, I am enjoying learning how to do everything within an more user friendly interface.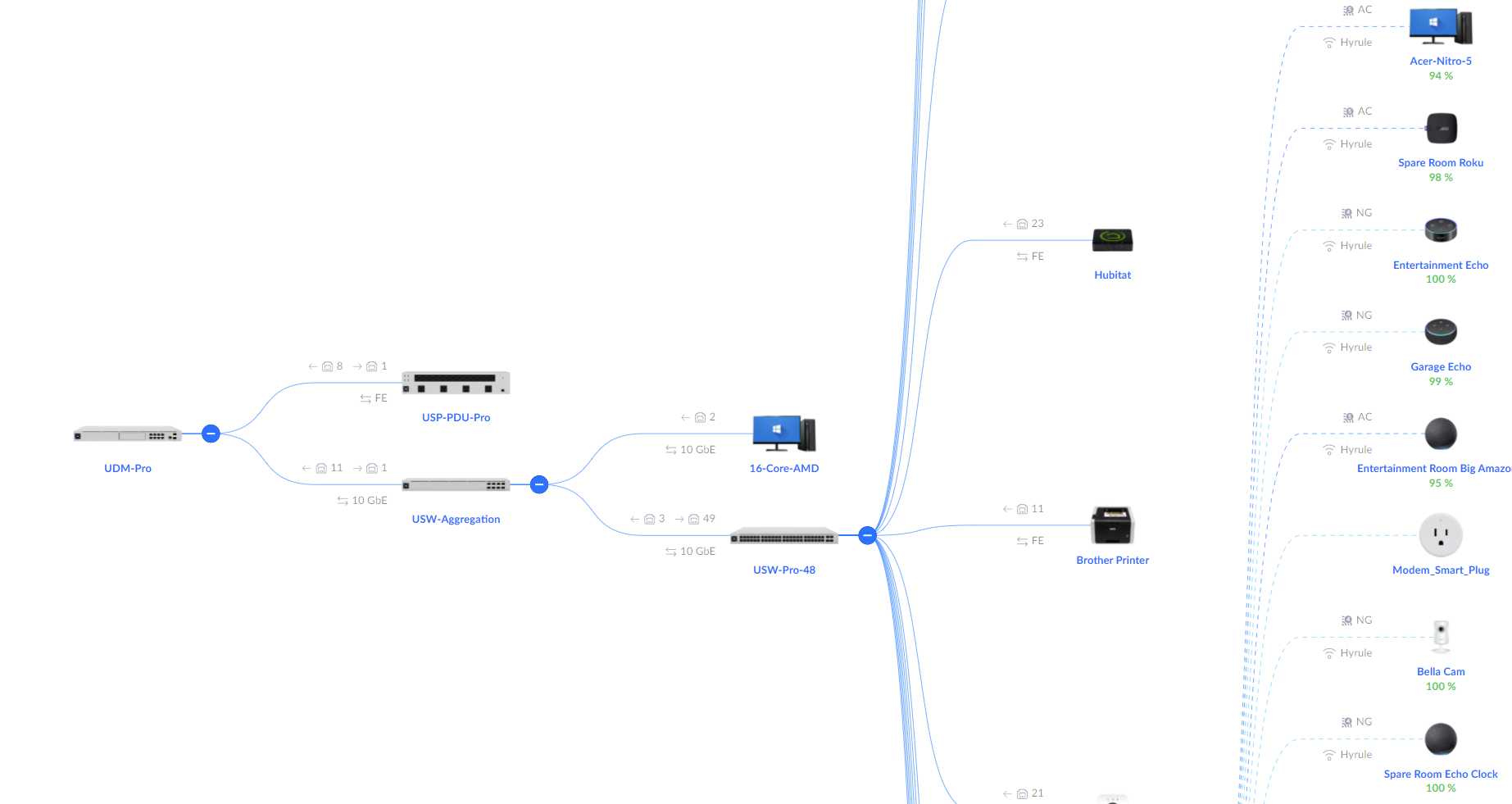 Protect
Ubiquiti offers a number of different cameras that range from simple FHD cameras starting at $29.99 and going up to $1,800 with full 4K with Pan-Tilt-Zoom (PTZ) controls. I picked up two of the $29.99 G3 Instant cameras and find them to be very capable for personal use. I would love to check out a few of the nicer cameras to replace my 5+ year old D-Link cameras I have outside, but that will probably be a project for another year. So while the UDMP is capable of being a NVR, with only a single hard drive bay, there is no redundancy and depending on the drive size used, it may not be ideal for larger networks of cameras. However, for my purposes, it is very reasonable just to have the capability. Much like DVRs, it can be configured to detect motions during certain hours and certain rules on how it will record activity. There are dedicate NVR's in the UniFi with more hard drive slots as well as dedicated processing power to support a higher number of cameras.
Access
Ubiquiti has built in an application to manage facility door access via their Access Hub, Access Reader, and Access Cards. Your doors must still already have electronic locks, but the Hub is able to be wired up to the locks to manage them. The Access application can be used to manage the users to be allowed in, create access cards or biometric records for users, track the access records, send a signal to the door to release the lock, and more. I don't have any of the Access devices so I can't really go into it more than that, but our office has an Access Controller so perhaps in the future if we switch over to Unifi, maybe I can experiment with that feature.
Talk
Similar to Access, I haven't personally used this feature, but I may pick up a UniFi phone for Amanda to use for her work. Essentially, the UDMP can manage users and Unifi Talk devices. There is a $9.99 subscription cost per user for 3,000 minutes as well as the need for a dedicated UniFi phone that range from $29 to $129. I hope to have more to discuss about that in the future.
IDentity
IDentity is basically UniFi's solution to user management much like Active Directory, Kerberos, or OpenLDAP. Essentially, you can sync users across all of the UniFi products as well as VPN. It can even sync up with existing user Directories (mentioned above). This feature is currently in BETA and I don't have a lot of direct use for it, but it could be very helpful as I continue to expand my Ubiquiti network.
Final Thoughts
The UDMP and my other Unifi devices are much quieter and cooler than my previous equipment. I used to hear the fans spinning in my network rack through the closed closet door and the temperature would be in the upper 80's and lower 90's. Now the sound and temps are much more reasonable. I really enjoy the look of these devices in my rack as well because they just look so clean.
Overall, I am really enjoying this device and what I have learned so far with it. I will share my thoughts on the other Unifi devices as well and will do an update in the future with how the network is turning out.
Links/Media
Unifi Dream Machine Pro Datasheet
UniFi Dream Machine Pro Amazon Affiliate Page
Disclosure
WVGamers is a participant in the Amazon Services LLC Associates Program, an affiliate advertising program designed to provide a means for sites to earn advertising fees by advertising and linking to Amazon.com.
Product images used from the Ubiquiti store pages for the products.